TFC Electric Inc.
Our Blog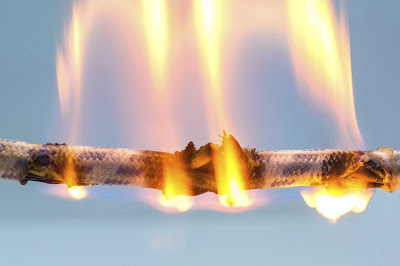 ​Common Causes of Electrical Fires
According to ESFI, there are 51,000 electrical fires each year. You may be wondering to yourself, what are the common sources of electrical fires? We are here to answer that question and to set the record straight.
Wiring
Is your home filled with faulty or old wiring? If so, it is putting you at risk for an electrical fire. Have any faulty or old wiring replaced by a professional electrician in a timely manner.
Cooking Mishaps
We've all set the fire alarm off by burning toast once or twice. However, deadly cooking mishaps can start electrical fires. To prevent this, never leave the kitchen while you are cooking.
Appliances that Generate Heat
Heating generating appliances such as heaters and furnaces can cause an electrical fire. Fortunately, this can be avoided. Keep heating producing appliances at least 3 feet away from other objects and materials.
Electrical fires can happen at any time. Chances are, they won't occur within normal business hours. This is why TFC Electric offers emergency service, 24/7. If you have any type of power disruption, water and/or fire damage, or any type of troubleshooting issue that needs to be fixed as soon as possible, we can help. Call 631-589-2800 for immediate assistance.
Web Source: http://www.yellowpages.ca/tips/the-4-most-common-causes-of-home-electrical-fires-and-how-to-avoid-them/